I'm supposed to be in an ankle cast right now, because I just recently had ankle surgery. Can't wear it, because I have to wear wading boots.
Half the people back there don't have sewer.
- Russ Barfield, Flood Survivor
There's all the neighborhood cars, I'm sure you saw when you came in. So, that's just ripe for someone thinking about robbing a car, because there's no one watching it and there's no way we can watch our vehicles.
- Emily Heeren & Donna Nelson, Flood Survivors
We don't have any hot water.
We don't have any cable, we don't have any Wi Fi.
Can't take the dogs out
- Whitney Hall, Flood Survivor
Our collective power is growing, but we need your help
Because of our efforts, council members formed a flood commission — they've promised to deliver a comprehensive plan in May, and we can hold them accountable for it.
We demand change
Johnny Gardner, Chairman of Horry County Council asked April O'Leary, founder of Horry County Rising, to serve on the county's Special Flood Committee.
In response, we hand-delivered a letter to Chairman Gardner outlining the details of what our organization considers a serious flood resiliency plan prior to accepting the invitation to serve on the committee.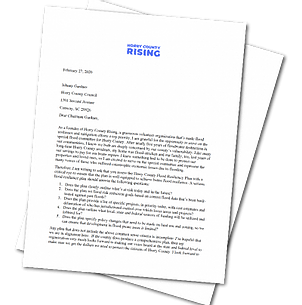 Don't Allow Building in the Swamp!
Building in swamps makes zero sense and harms us all. Horry County Rising has been working hard to put smarter development standards in place to reduce flooding. County council will vote in mid-May to increase the minimum elevation requirement for new development.

We have polled our Facebook group, and the vast majority of our members think that 3 feet above the high water mark of Hurricane Florence is a common-sense standard.

Is flooding important to you? If so, please spend 3 minutes now to push the council to adopt a 3 foot (above Florence) elevation standard that will stop allowing building in the swamp!